HH Gopal Krishna Goswami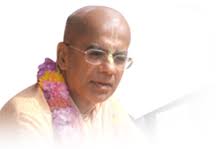 His Holiness Gopal Krishna Goswami is a religious leader within the International Society for Krishna Consciousness (popularly known as the Hare Krishnas).[1] He was the first Indian disciple of A.C. Bhaktivedanta Swami Prabhupada to be initiated after the establishment of ISKCON. Gopal Krishna Goswami is currently a member of the Governing Body Commission and an initiating guru within the movement.
His Holiness Radhanath Swami Maharaj
Radhanath Swami Maharaj(born December 7, 1950)[1] is a guide, community builder, activist, and acclaimed author. He has been a Bhakti Yoga practitioner and spiritual teacher for more than 40 years.[2] He is the inspiration behind ISKCON's free midday meal for 1.2 million school kids across India,[3] and he has been instrumental in founding the Bhaktivedanta Hospital in Mumbai.[4] He works largely from Mumbai in India, and travels extensively throughout Europe and America.[4][5] In the International Society for Krishna Consciousness (ISKCON), he serves as a member of the Governing Body Commission. Steven J. Rosen described Radhanath Swami as a "saintly person respected by the mass of ISKCON devotees today."[6]
HH Nava Yogendra Swami Maharaj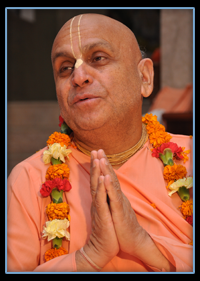 His Holiness Nava Yogendra Swami Ji Maharaj is one of the foremost disciples of His Divine Grace A.C. Bhaktivedanta Prabhupada. He was born on 12th May 1946 on the very auspicious day of Rukmani Dwadashi in the holy town of Udhampur (J&K). He hails from a royal family of Raj Purohits (family Brahmin priests of the king of Kashmir). His father Pandit Harichandra Ji and mother Smt. Durga Devi both were ardent devotees of Lord Krishna.
Maharaj Ji is always on the move travelling most of the time. He has been visiting and preaching Krishna consciousness several times in most of the countries across the globe. He has preached about Srimad Bhagvat Gita to many leaders and presidents of various countries. He developed/established/constructed temples and preaching centres, Gurukuls, Goshalas, widow & orphan homes at Africa, England, America, Chandigarh, Vrindavana, Haridwar, Udhampur, Katra, Lucknow, Amritsar, Maharashtra etc. He is also organizing rathyatras and inspiring thousands and thousands of people across the globe to surrender to the lotus feet of Srila Prabhupada and get the mercy of Lord Chaitanya.
HH Gour Govinda Swami
HH Gour Govinda Swami (2 September 1929 – 9 February 1996) was a Vaishnava religious leader. He was a leading ISKCON Guru, sannyasi, governing body commissioner within the International Society for Krishna Consciousness (commonly known as the Hare Krishnas or ISKCON) and the main inspirational force behind Gopal Jiu Publications.[1] He is a saint within ISKCON.[2] He was the first initiating guru after Srila Prabhupada to leave his body (pass on or die) in good standing spiritually.