This is a story of a 71 ye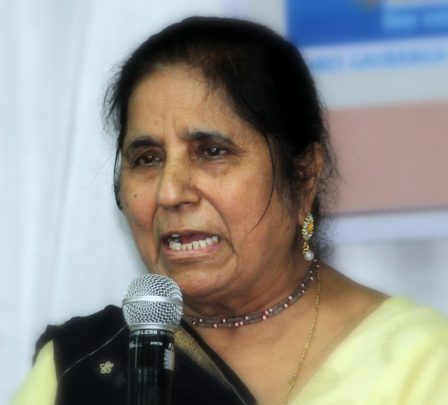 ars old lady, Smt. Meera Nandlal Sharma, staying in vasai road , who is a widow of Late Shri. Nandlal Sharma , officer in Indian Navy.
She has invested all her pension and savings , and her valuables to the cause of welfare of the underprivileged children, destitued women , housewives and senior citizens.
She has trained more than 2000 women for free vocational training making them self reliant & self sufficient ,
Shree Gauranga's Foundation Trust (SGFT), Registered trust No : E8200/Thane, www.shreegauranga.org.
The SANKALP  is of empowering 10,000 houswives, senior citizens and underpriviledge children ,and people below poverty line, and socially disadvantaged groups by August 15th 2019.
Causes which receive more than 5000 votes will be highlighted and may turn into National Causes
If you all want the sacrifices of this lady to reach the ministry then we would require your vote till the count of 5000 votes, so that ministry could help her reach her sankalp of educating 10000 women free of cost .. You can vote for the cause to build New India at the below link
https://newindia.in/causes/education-for-girlswomens-empowerment-educate-a-women-teach-a-generation-and-empower-a-nation/.
OR
Please click on the education and skill photograph and vote for the cause. I have voted for her efforts now its your turn….
The procedure for voting.
 Steps: